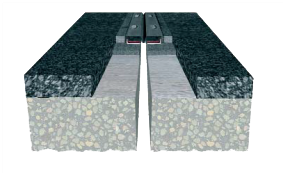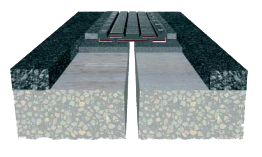 ---
Composan puentes y obra civil is leader in the manufacture and installation of expansion joints on roads. It has its ownbrand, that has been on sale for more than 25 years, and its own products, designed and developed by our departments.
Neoprene reinforced joints JNA are formed by a strip of elastomeric material, usually a mixture of chloroprene rubbers and elastomers, whose formula give them elasticity, strength and durability.Inside the rubber there is a metal reinforcement steel which givesthe rigidity and strength they need to transmit traffic loading and prevent bending when absorbing movements. The elastomeric material and steel are merged in a vulcanization process; the adherence is increased by suitable «primers». The modules have a surface pattern which avoidsslipping and allows the removal of surface water; but, at the same time, it retainsa coating on the steel plate surface to avoid the possible exposure after natural wearing.
Smaller modules are formed by a central part, which is in turn composed by a folded elastomeric sheet, joined at its ends to a larger section more armed and rigid; the central band is then an extension of the reinforced elastomer. The central part, highly flexible, bends the opening, and it adapts to its movements thanks to its deformability. The ends are the joint anchorage of the structural elements.
It is useful in bridges with light traffic and small lights.
horizontal range: ± 45 mm
vertically Range: ± 10 mm
In case of larger movements special modules are used: combining them («TANDEM SEALS») allows large movements in the joints of the bridge decks.
---
---
---